It is my pleasure to introduce the Third Edition of Wrist and Elbow Arthroscopy with Selected Open Procedures published by Springer, edited by myself.  Recent advances in wrist and elbow surgery are not limited to arthroscopy alone. There have been huge advancements in both arthroscopy and open surgical techniques of the wrist and elbow. In this edition, we've added selective chapters describing open techniques for wrist and elbow surgery. In these chapters, international thought experts who have developed recent advances and were asked to provide their input on open surgery of both the wrist and elbow. I personally believe that these open techniques is a huge contribution to the Third Edition for techniques of wrist and elbow surgery. The current edition has more than doubled the number of chapters from the previous second edition from 34 to 76 chapters. The goal of the Third Edition, as before, was to be international as possible. This edition includes authors from China, Singapore, Europe, South America, and the United States.
The Third Edition includes new and exciting updates in arthroscopic wrist surgery including arthroscopic management of perilunate dislocations, evaluation and treatment of ulnar triquetrum ligament split tears, and a new technique for arthroscopic repair of peripheral tears of the triangular fiber complex through bone tunnels. For the elbow, arthroscopic ulnar nerve release was added, which is a controversial topic.
Regarding open techniques, there are multiple chapters regarding new concepts in management of carpal instability, as well as management of distal radius fractures with new volar and dorsal plates, and fragment specific fixation. Wrist arthroplasty continues to evolve with new techniques and prosthesis with promising results, and these tips and tricks are described. I urge you to review this Third Edition of Wrist and Elbow Arthroscopy with Selected Open Techniques. I feel it is certainly a valuable contribution to the literature in both arthroscopic and open surgery to the wrist and elbow as published by Springer.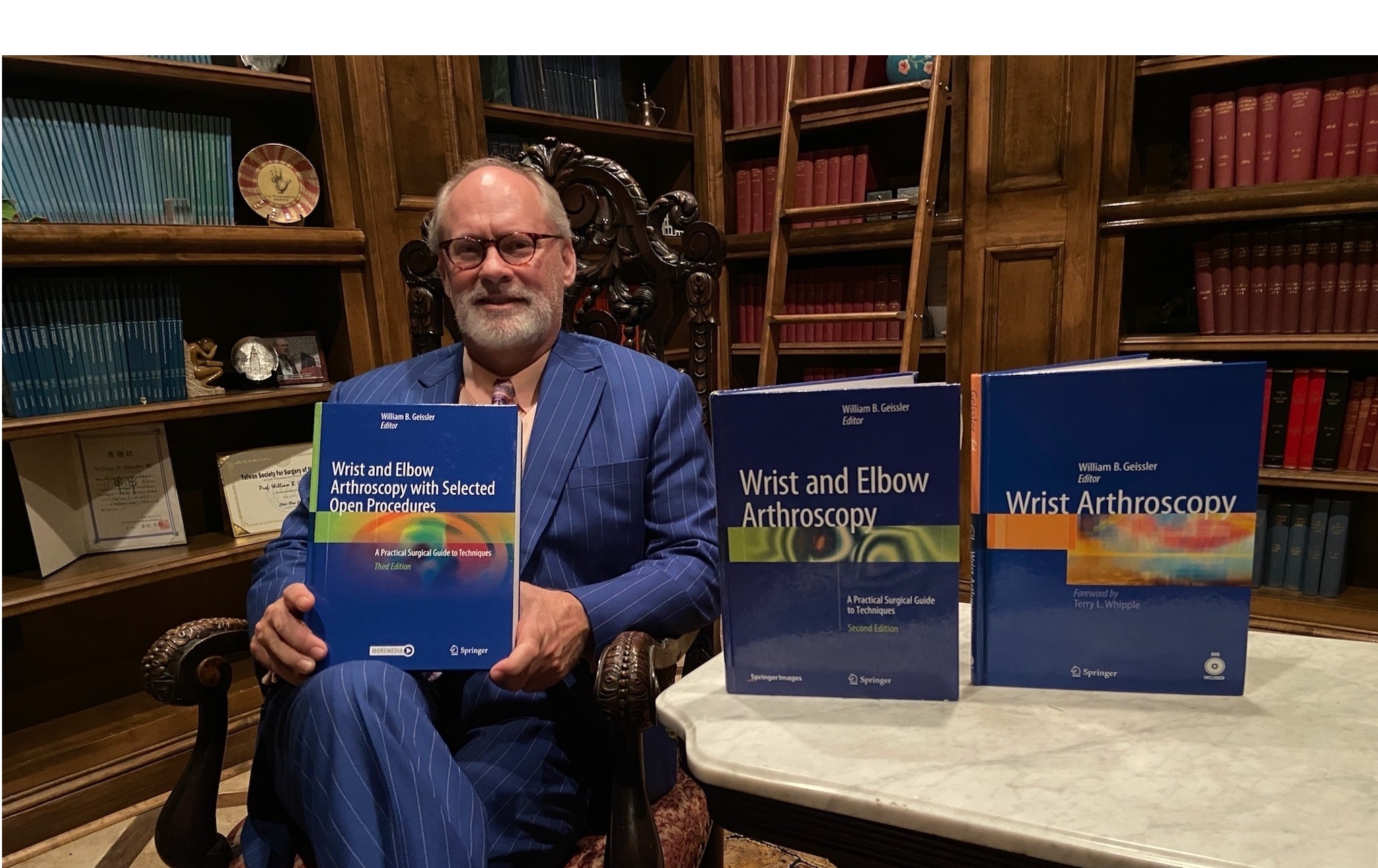 Previous editions of Wrist and Elbow Arthroscopy and other books authored by Dr. Geissler are linked below.