Philanthropy: Geissler, Russell awarded chairs named for "giants"
By Gary Pettus
Dr. William B. Geissler and Dr. George V. Russell were awarded separate, endowed chairs named in honor of two legendary UMMC professors during a June 11 reception in Jackson.
Geissler and Russell are professors in the Department of Orthopedic Surgery and Rehabilitation, which Russell also chairs.
Geissler received the Alan E. Freeland Chair of Orthopedic Hand Surgery, while Russell was awarded the James L. Hughes Chair of Orthopedic Surgery.
Drs. Freeland and Hughes, professors emeriti at UMMC, acknowledged the recipients before a gathering of about 125 people at the Country Club of Jackson.
"Endowed chairs are vitally important to academic medicine," said Dr. James Keeton, vice chancellor for health affairs and dean of the School of Medicine. 
"Lots of people gave of their time and their treasure … . They care about the Medical Center and the Department of Orthopedic Surgery.
"It shows you are committed. My gosh, you are committed – two endowed chairs in one night, and in the same department."
Dr. Jorge Alonso, formerly of UMMC, and now professor and director of orthopedic trauma at the University of South Alabama College of Medicine, introduced Freeland and Hughes, referring to them as "these two giants."
Freeland, former chief of the medical staff at UMMC, is listed in "Guide to America's Top Surgeons".  He established the Hand Fellowship Program in 1991 and served as its director until 2004, retiring from clinical practice in 2005 to focus on research.
Hughes is an internationally known orthopedic surgeon who served at UMMC as chief of staff and chair of the Department of Orthopedic Surgery. He retired from UMMC in 2011.
While introducing the recipient of the Freeland Chair, Freeland said, "You could look all over the word and you couldn't find a better guy than Will Geissler."

Geissler completed his internship and residency in orthopedic surgery at UMMC before finishing fellowships in Switzerland and Richmond, Va.
Returning to UMMC to complete a fellowship in hand and upper extremity surgery under Freeland was "the best decision in my life," Geissler said.
He joined the department in 1992 and specializes in shoulder and elbow surgery, hand surgery and advanced arthroscopic surgery. He is program director of UMMC's orthopedic hand fellowship, serves as team consultant for the University of Mississippi athletic program and other community sports teams.
For his part, Hughes introduced Russell as "an extraordinarily competent surgeon" and only the fifth person to chair the Department of Orthopedic Surgery.
"I am honored that George [Russell] would be in this lineage," Hughes said.
Russell joined the department in 2000. He has become one of the nation's leading orthopedic trauma surgeons and a recognized expert on obesity in orthopedics. A procedure he created, the clamshell osteotomy, is used around the world.
Russell praised Hughes for his mentorship and support.
"This is a very personal place for me," he said of UMMC. 
"For me, George Russell, an African-American from Cincinnati, Ohio, to become a tenured professor and an endowed chair at the University of Mississippi in Jackson, Mississippi, at the Country Club of Jackson, is a hell of a story."
Published in CenterView on January 27, 2014 

Orthopedist's 'brainchildren' help patients recover active lifestyles

By Gary Pettus
Often, it starts with a simple sketch crawling spontaneously out of Dr. William Geissler's imagination and across a scrap of paper.
Then, the evolution of his idea leapfrogs into reality, from a primitive scrawl to sturdy plastic and metal mockups to an actual device supporting a flesh-and-bone arm as it slings a touchdown pass on ESPN.
Thanks to Geissler's skills as a surgeon and inventor, the list of once-damaged athletes who continue to pass, pitch and punch is long; but there are also everyday folks who are equally grateful that they can just keep walking or making a living.
"That is a gifted man," said Tom Burkes of Carthage, whose knees and shoulder have thrived under the hand of Geissler. "He has found his true calling."
A professor of orthopedic surgery at the University of Mississippi Medical Center and the designer or co-designer of several orthopedic implants on the market today – including a total-shoulder replacement system – Geissler had plenty of free time to ponder his calling while growing up.
"Boring. Windy," he said, describing the landscape around Topeka, Kan.
The South, by contrast, seemed "more colorful," he said. "It has trees and hills."
Approximately 30 years ago, as a young medical student home visiting his parents, he made a decision.
"I arrived in Kansas City and the wind chill was something like 99 below zero," he said. "Then I went back to school and landed in New Orleans, where it was 72. That's when I decided I wasn't going to live in Kansas anymore."
His school was at Tulane University, a place he had chosen after he had literally and figuratively taken its temperature.
"It was a good medical school," he said, "and it was in the South. I love the culture here, the food."
Climate aside, it was during his youth in Kansas that Geissler warmed to the idea of a medical career.
"I read this Time-Life book about health sciences and had always been interested in science anyway," he said. "Ever since I was in junior high, I wanted to be a doctor."
Eventually, as a doctor, he would edit his own book on wrist arthroscopy.
Potentially, in storybook fashion, his high school days could have inspired his career as a healer of broken bones. He played tailback on the football team, ran track and made the wrestling team – offering him plenty of chances to damage his sinew and limbs.
It didn't happen that way.
"I had some injuries," he said. "Nothing worth mentioning."
Athletics, however, did teach him about competition and hard work – the backbone, so to speak, of a career in orthopedic surgery.
One of two children, Geissler was the son of a caterpillar tractor and equipment salesman. He needed scholarships to pay for college – at Washburn University in Topeka, then at Tulane, where he graduated in 1985.
During his medical school rotation, he discovered the pleasures of orthopedic surgery and its link to sports medicine – a "perfect fit" for the physician desiring instant gratification, relatively speaking.
"You handle a lot of broken bones, which you can fix fairly quickly," he said.
It was in Jackson that Geissler fixed many of his first broken bones. As a fourth-year medical student, he spent part of his rotation at UMMC and completed an internship and residency here. Then he left – first for an orthopedic trauma fellowship in Aarau, Switzerland, then for a one-year fellowship in advanced arthroscopy in sports medicine in Richmond, Va.
But he came back, and has been on the UMMC faculty full-time since 1992.
Although Geissler loves to travel, he has no reason to visit Kansas anymore, he said. One of his mentors, his father, is now deceased, as is his mother.
Years ago, he found another mentor, during a second fellowship, in hand and upper extremity surgery at UMMC: Dr. Alan Freeland.
"He was a star from the beginning, as a physician and a surgeon," said Freeland, now retired. "He is also very bright, very creative. He has designed plates and screws that hold bones in place that had never been used before."
Many of Geissler's "brainchildren" are implants meant to simplify surgical reconstruction, making life easier for the patient, including Burkes, the Carthage man whose shoulder he replaced in November.
"I could barely lift my arm before surgery," Burkes said. "You wouldn't believe the range of motion I have now, and with no pain.
"He wants to heal you. I do admire that in the man."
Jeff Hodges, a UMMC physical therapist, has worked with Geissler for approximately 17 years at high school football games, BMX racing tracks, minor league baseball parks (Geissler is also the Mississippi Braves' orthopedic physician), rodeo arenas and more.
"When somebody comes to me after seeing him, they've had a good evaluation," Hodges said. "I truly know he's done a good job. That makes my job easier when they walk through my door."
Working with a variety of engineers on his designs, Geissler also tries to make his own job easier, he said.
"It's very gratifying that on a day when you do 10 surgeries, five may be implants I designed or co-designed."
On Election Day 1996, a man arrived at UMMC's emergency room after a wreck that nearly killed him. Using plates of his own design, Geissler treated Gov. Kirk Fordice's broken shoulder blade and collarbone.
In 2007, the Mississippi Legislature commended him for his "fabulous" invention, the Turbo Plate, a device that helps hold a broken collarbone in place "due to its sleek S-shaped design." The idea flew out of his head while he was flying to Portland, Ore.
Dr. Hank Sherman, a primary care sports medicine specialist for the University of Mississippi, has worked with Geissler for approximately five years, helping to mend such famous limbs or ligaments as the right throwing shoulder of quarterback Bo Wallace, the ACL of basketball standout Chris Warren and the wrist of defensive end Greg Hardy.
"I once asked him about a specific device he had designed," Sherman said. "He said he was in the middle of surgery one day repairing a clavicle. And it dawned on him that what he had to use doesn't work the way it should, so he just sat down and drew one that did."
 
Published in CenterView on January 28, 2013
State-of-the-art device helps Ole Miss QB heal from shoulder separation surgery
A new medical device now being used at the University of Mississippi Medical Center promises to keep athletes with certain shoulder separations on the playing field.
 

The Lockdown wraps around the scapula and on top of the clavicle to secure shoulder seperations.
Already it is helping one Conerly Trophy-winning quarterback stay on track to continue his promising collegiate career.
Designed by Prof. Angus Wallace and Dr. Lars Neumann of Nottingham University Hospital, NHS Trust, United Kingdom, the Lockdown Acromioclavicular Device is billed as the most effective solution for acromioclavicular joint (ACJ) reconstructions.
The device, which was just approved for use in the United States in the summer of 2011, helps individuals with acute or chronic shoulder separations heal and prevents ACJ surgery failure.
 

Geissler demonstrates placement of the Lockdown
It is such a new innovation on the surgical scene that Dr. William B. Geissler, professor of orthopedic surgery, employed it for the first time Jan. 8 on one of Mississippi's highest-profile current athletes: Ole Miss quarterback Bo Wallace.
Wallace first injured his right throwing shoulder Sept. 22 during the Rebels' 39-0 victory over Tulane in the Mercedes-Benz Superdome.  Geissler, who covers the Ole Miss football team as chief of the sports medicine and shoulder programs at UMMC, immediately saw Wallace when he ran off the field in New Orleans and diagnosed the initial shoulder separation.
"The injury progressed over the season," Geissler said. "He had discomfort and felt his accuracy and velocity were decreased as the injury got worse.
"It was amazing that he took the hits he took and was still able to throw the ball as well as he did."
 

Wallace
Wallace's shoulder injury really became serious five weeks later when he was leading the Rebels down the field in an important Southeastern Conference game against Arkansas at War Memorial Stadium in Little Rock. After throwing the ball away from the Razorback defense during what would be the game-winning drive in a tight 27-24 victory, Wallace took a hit to his shoulder.
"That's the play that hurt it (his shoulder) to the point it needed surgery," Wallace said. "I was in pain the rest of that game."
Geissler knew Wallace's shoulder had been damaged, and the Ole Miss medical and training staff helped the redshirt sophomore manage the injury for the remainder of the season while the Rebels tried to secure bowl eligibility for the first time in three years.
"He had some rehabilitation during the season and it was something we were hoping he'd be able to play with," Geissler said. "But particularly toward the end of the season it became apparent a surgical operation would have to be done if he wanted to continue to play at that elite level."
"The pain was always there," Wallace said, "but once your adrenaline gets going, you put it in the back of your head. The first and second quarters would be fine, and as we started the second half, I could start to feel it a little more gradually as the game would go on.
"There were a couple of games where I wasn't sure if I would be able to finish the game, but it never really threatened to keep me out entirely."
Geissler planned for Wallace to undergo shoulder separation surgery as soon as possible at the end of the season, and Wallace managed to play out the remainder of the schedule. He figured
decisively in the Rebels' final contest against arch-rival Mississippi State, a 41-24 home victory at Vaught-Hemingway Stadium in Oxford Nov. 24 that clinched a bowl berth for Ole Miss.
The downside to the victory? Wallace's surgery had to be delayed until after the 2013 BBVA Compass Bowl Jan. 5 in Birmingham, Ala.
"If we hadn't gone to a bowl game, I probably would have done it right after the MSU game," Wallace said. "During the break (between the regular season and the bowl game), I pretty much just rehabbed with Pat (Jernigan, Ole Miss head athletic trainer for football) and our trainers.
"For that month, I tried to rest it and not throw at all."
The rehab-and-rest plan worked: Wallace threw three touchdown passes as Ole Miss easily dispatched Pittsburgh 38-17.
Three days later, he was in the surgery suite at UMMC.
"When we did Bo's surgery, his injury was more severe than what his preoperative MRIs and radiographs had demonstrated," Geissler said. "Bo tore the ligaments that go from his shoulder blade to his clavicle. The clavicle helps hold up your upper extremity; if ligaments are torn, your arm hangs down and the clavicle becomes quite prominent.
"During a complex throwing motion, the clavicle rotates, the shoulder blade rotates, and as you're raising your arm, your muscles are contracting. To be an elite SEC quarterback, this is a very synchronized motion that's been practiced over many years. When you tear the ligaments, all that motion is thrown off.
"It's amazing how well he could throw the ball with the shoulder separation that he had."
During the surgery, Geissler implanted the Lockdown, which wrapped around the scapula and on top of the clavicle, to help secure the clavicle and put the separation back together again. He then reconstructed ligaments to reattach from the scapula to the clavicle so Wallace's body could grow within the shoulder to make its own ligaments.
"What we were trying to do was to reconstruct his ligaments with a minimal amount of holes in the bone of his clavicle so when he engages in contact this fall, hopefully it won't cause a fracture where the holes are," Geissler said. "To do this type of surgery in a contact athlete is a very unusual problem. I thought the use of this device, along with reconstruction of his ligaments, would be the best option for Bo."
The surgery will prevent Wallace from participating in his team's spring practices and its annual spring game, but he fully expects to take the field next fall.
"It's just a week and a half after surgery, and I feel great," Wallace said. "For these next few months, it will be a lot of rehab and taking care of it (his shoulder). I know I'm probably not going to throw before June. I just have to take care of my body in other ways and get with Pat and get my rehab done.
"I thought the treatment from the Medical Center was really good. Obviously, you're a little nervous with your shoulder getting worked on, but they got me in and out very quick. I'll be 100 percent: I'm 100 percent confident I'll be back."
Geissler, who's reconstructed shoulder separations for about 25 years using various techniques, said he has "no reservations" about using the Lockdown in athletes in the future.
"You're always concerned about your starting quarterback," he said. "I was confident whatever he had we could fix. We've operated on a number of players at Ole Miss over the years and you're always concerned whether your surgical reconstruction is going to hold up to the hits they take in SEC football.
"It was the first time I've used the (Lockdown) device, and we're very happy with it. It's indicated both in acute and chronic reconstructions . . . and we plan to incorporate it into my practice."
Published in Methodist Rehabiliation Center  in October 2003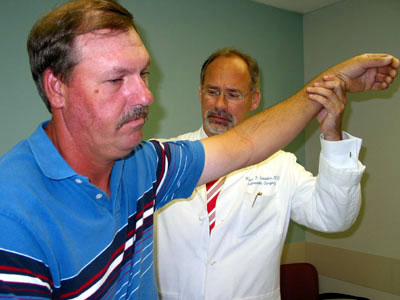 Dr. William Geissler examines Jimmy Downs, a Methodist Rehabilitation Center patient who is the first in the world to be implanted with a new orthopedic plate that may revolutionize the treatment of fractured collarbones thanks to its sleek, s-shaped design.
By Susan Christensen
Health and Research News Service
JACKSON, Miss.—Jackson orthopedic surgeon William Geissler sounds like he's discussing a high-performance sports car as he talks about his latest invention.
"It really hugs the curves," he says.
He's describing what he has dubbed the Geissler Turbo Plate, a new orthopedic plate that may revolutionize the treatment of fractured collarbones thanks to its sleek, s-shaped design.
Jimmy Downs of Carrollton became the first patient in the world to "test drive" the new plate after undergoing implant surgery at Methodist Rehabilitation Center in Jackson on Oct. 31, 2003.  At the time, Methodist Rehabilitation had a surgical suite often used by UMMC physicians.
Geissler, professor and chief of arthroscopy and sports medicine at the University of Mississippi Medical Center in Jackson, worked with engineers at implant-maker Acumed to design the titanium plate. It comes in three sizes and features tissue-friendly beveled edges and low-profile screws. It also comes with a special retractor that protects the patient's arteries and nerves while the screws are being inserted.
Surgeons typically attach plates to broken bones to keep them in place while they heal. But they've never worked well on the clavicle because the plate was straight and the bone is curved. Hence, the idea for the Turbo Plate. "There's been a trend in recent years to pre-contour plates to the shape of the bone," Geissler said. "We took that trend and applied it to the clavicle, which is an area I have an interest in."
Geissler predicts a high demand for the plate because the clavicle is one of the most fragile bones of the body. "There's no muscle to protect it," he said. So if you fall off your bike or take a blow to the shoulder, the bone can easily snap or crack.
For children, a broken clavicle is seldom a big problem because the fracture usually heals itself. But adult collarbones aren't so easily repaired.
Since early studies showed poor results from surgically repairing the clavicle, the traditional treatment has been to put a patient's arm in a sling, explained Geissler. "But when the fracture healed, the shoulder often became significantly displaced. It would be squashed in and lowered and it looked kind of funny. Patients also would have weakness in their shoulder muscles and loss of function. In a recent study, a third of the patients were unhappy with the result."
Downs certainly fits that category. Three months after breaking a clavicle, scapula, rib and wrist when he was thrown from his truck during a rollover, the 46-year-old carpenter could do little but "lay on the couch and suffer."
As happens with many patients, Downs' fracture had healed crookedly, which made him a perfect candidate for the Turbo Plate. "If you have to re-crack the bone to put it back where it belongs, the curved plate helps you line the bone back up," Geissler said.
Although he knew he was something of a guinea pig, Downs says he had no qualms about being the first person to try the Turbo Plate. "I liked the idea. I love technology," he said.
He also likes the fact that he's no longer in severe pain. "Before, I could do nothing with my left arm," he said. "If I moved it, it felt like the bone was coming through my skin. Now that I'm healed from surgery, it feels pretty good."
While the new implant solves many problems, it's not for everyone who has broken their collarbone. "A majority of clavicle fractures will still be treated non-surgically," Geissler said. The plate will likely be used if a fracture is severely displaced or there are multiple bone fragments or the fragments are pushing on the skin.
Geissler said another scenario would be if a patient has multiple injuries and surgically repairing the clavicle could help speed recovery. "My next case is a young girl who fractured her scapula into the joint. She also has a clavicle fracture and a wrist fracture, so her whole upper extremity is involved. I'm going to fix each of those fractures, so we can speed up rehabilitation. If I just fixed the wrist and the scapula, she would still be fairly limited in the use of her arm from the pain of the clavicle fracture and she wouldn't be able to participate in therapy."
Geissler has performed about 14 more implants since Downs' surgery. Orthopedic surgeons in Biloxi, Hattiesburg and Greenwood also have used the Turbo Plate, and plans are to give it worldwide exposure.
"We are really excited about the product," Geissler said. "I just got back from meetings in Florida and Japan, where I introduced it to orthopedic surgeons."